CLUB TOURS

Join us on a tour to visit some projects we've build and see how we do it!

GATHER NEW IDEAS, MEET LIKE-MINDED PEOPLE AND DISCOVER OUR ADDED VALUE YOURSELF.

Are you looking to start your own studio? Or are you interested in gathering some new ideas and insights for your own studio? During our Club Tours, we visit some groundbreaking locations in the industry that we've built over the years. Join us and discover what value we can add to your business.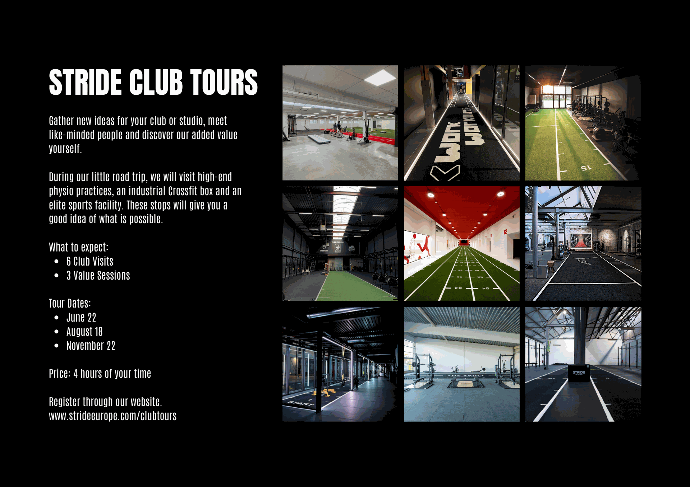 CLUB VISITS
We'll make a few stops in 6 different types of clubs so you can have a good idea of what's possible. From a high-end physio practice, a Personal Training gym to an elite sports facility.
VALUE SESSIONS
During our little road trip, we'll briefly share some knowledge that we've gathered over the years.
---
LOCATION: Start at STRIDE HQ (Pantserschipsstraat 163C, GHENT)
TIME: 8:30 - 13:30
PRICE: 5 hours of your time
INCLUDING: morning coffee, snack and lunch